As the release date for iPhone 8 is closing, the market has been flooded with leaks and rumors. I wouldn't be wrong if I say that Apple itself is also in this race as the HomePod firmware was leaked by Apple only.
We all know that not everything is true what you see on the internet right? But the story is different in this case as some information uncovered by iHelp suggests that the upcoming iPhone 8 might feature 4K video recording from the code uncovered in the screenshot below.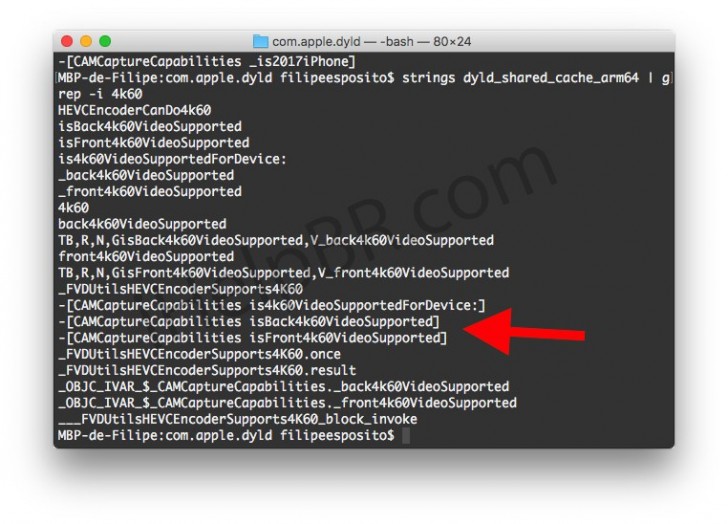 The line  [CAMCaptureCapabilities isBack4k60VideoSupported] in the above picture suggests that the iPhone 8 is likely to record at 4K with 60 fps. Apart from that other leak also uncovers information suggesting that both the Front and Back camera will feature 4K recording.
But similar case happened when iOS 9 was launched, there were also leaks supported from the uncovered piece of code like this suggesting 1080p @ 240fps, front flash, and panoramic feature but only the front flash came out to be true.
This suggests that Apple might want to hold surprises for upcoming version and variants by not giving all the features at once. This also means that 4K recording from the front cam will never happen but there are no certainties and what surprises iPhone 8 will bring is yet to see.
Whatever the case, the 4K Video recording @60fps is undoubtedly nice move from Apple as not many devices in the market currently features 4k recording.
We whole heartedly encourage all of you to share your opinions, requests, queries, and any issues regarding our tutorials and other posts among everyone. Please feel free to visit our ObeyGeek forum and speak your mind.